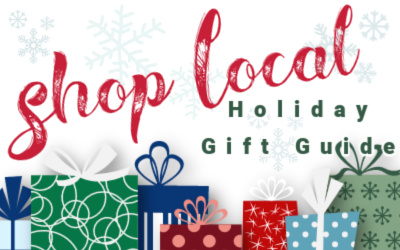 1.     Revival 23
–       A local boutique that offers trendy clothes, accessories, candles, and home décor.
2.     A Book Barn
–       This independent bookstore in Old Town Clovis has used, rare, out of print, and signed First Editions. A perfect place to get a gift for the Bookworms in the family.
–       Local jewelry artist, Alana Little, handcrafts high quality, versatile pieces that would certainly please the family fashionista.
–       Located in Old Town Clovis and owned by a certified Master Aromatherapist, Just My Essentials offers unique skincare products with high quality, clinical grade formulas.
5.     Enzo's Table
–       Enzo Olive Oil Company has an amazing selection for all Foodie's out there. Stop in and grab some locally crafted olive oil, vinegar, dried fruits, assorted nuts, and sweets!
6.     KLSD
–       KLSD is well known in the Valley for their Graphic Tee's featuring uplifting sayings, but their online store also has books, home décor, and items for pets. Perfect stocking stuffers!
–       Find unique clothing, accessories, stationary, home goods, & baby products at The Foundry– Located on Pollasky Ave in Clovis!
8.     Ooh La La
–       Ooh La La has won Fresno Bee People's Choice Award for Best Boutique 12 years in a row. If you don't have time to check out their brick and mortar stores, you can easily browse their online inventory on their website.
–       Flora offers beautiful fresh flower arrangements, bouquets, tablescapes, and more! You can even gift someone special a bouquet every month with a subscription!
–       Located in Old Town Clovis, The Foundry Cooperative is a community-based space that supports local artisans. Just a few names include: PricklyPearFarmz propagated succulents, Amber House Soaps and Poppy Beach Jewelry.