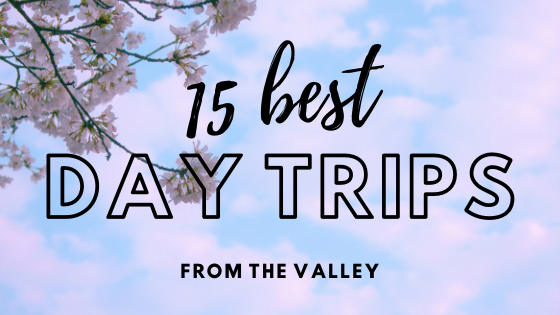 1. Pincushion Peak Trail: Friant, CA
This dog-friendly trail offers beautiful views of Millerton Lake.

2. Tuolumne Meadows: Yosemite, CA
When visiting, you can see the Tuolumne River quietly flowing through Yosemite Valley and have a front row view of one of nature's greatest natural wonders.

3. Dinosaur Caves Park: Pismo Beach, CA
The 11-acre park has grassy lawns, perfect for a picnic and breathtaking views of the ocean.

4. Morro Rock: Morro Bay, CA
While visiting this peaceful town, check out this historic landmark and catch some sun on the beach.

5. Fresno County Blossom Trail: Fresno CA
In the springtime, the blooming fruit trees and flourishing wildflowers provide a perfect setting for a scenic car ride or a relaxing walk!

6. Sequoia National Park: Three Rivers, CA
While taking in the magnificent views of the towering sequoia trees, be sure to check out the General Sherman Tree dominating the Giant Forest.

7. Forestiere Underground Gardens: Fresno, CA
Check out this historical series of subterranean structures that was built by hand over the span over 40 years.

8. Sensorio Field of Lights: Paso Robles, CA
15-acre walk-through artwork that covers rolling hills with an array of over 58,000 stemmed spheres lit by fiber-optics, gently illuminating the landscape in subtle blooms of morphing color.

9. Project Survival Cat Haven: Dunlap, CA
This organization offers guided tours throughout 100 scenic acres, showing the public some of the rarest cats in the world.

10. Clovis Botanical Garden: Clovis, CA
Enjoy a leisurely walk and view the garden composed of beautiful plants and landscapes.

11. Hume Lake: Sequoia National Forest, CA
You can go fishing, hiking, mountain biking, paddle boarding, and simply enjoy the outdoors.

12.  Mono Hot Springs: Sierra National Forest CA
Consisting of three main pools and a handful of smaller soaking pools found throughout the meadow, these remote springs are guaranteed for relaxation.

13. McWay Falls, Julia Pfeiffer Burns State Park: Big Sur, CA
This picture perfect 80 foot waterfall that flows into the Pacific Ocean is a sight to be seen. Bring a picnic and  some hiking shoes to explore the beautiful scenery.

14. Lovers Point Park: Pacific Grove, CA
Catch a glimpse of marine life in their natural habitat and take in the magnificent views.

15. Art of Life Healing Garden, Woodward Park: Fresno, CA
Stop by the garden, check out the amazing artwork created by survivors or zen out in our reflection areas overlooking the Eaton Trail.